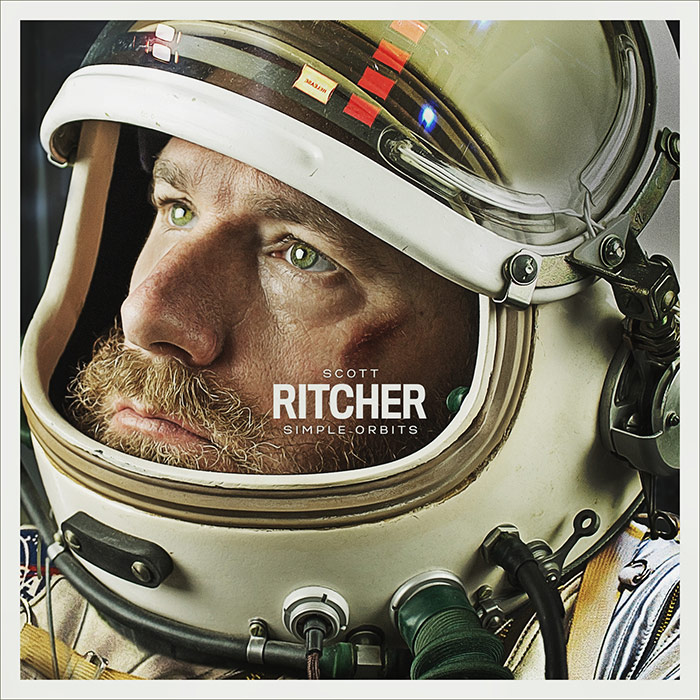 New music from Scott Ritcher!
Fifteen years after his last solo record, Scott Ritcher returns with something completely new and different.
Simple Orbits opens with a single sustained tone on a cello and slowly builds into a cacophony of more cellos, four violins, guitar, narration, piano and more, until after 7 minutes, it finally bursts into song.
At 26 minutes in total, the record's three songs are extended adventures, ranging between 7 and 10 minutes in length.
"An intense, dense and evocative collage of three distinct compositions with dark undertones, unified by an unmistakable Ritcher signature sound." –Alex Leask
"It's barely music." –Metroschifter drummer Chris Reinstatler
Simple Orbits is available now on Metroschifter.com and all the major music services!
Get it now as a compact disc or name your price on the instant download!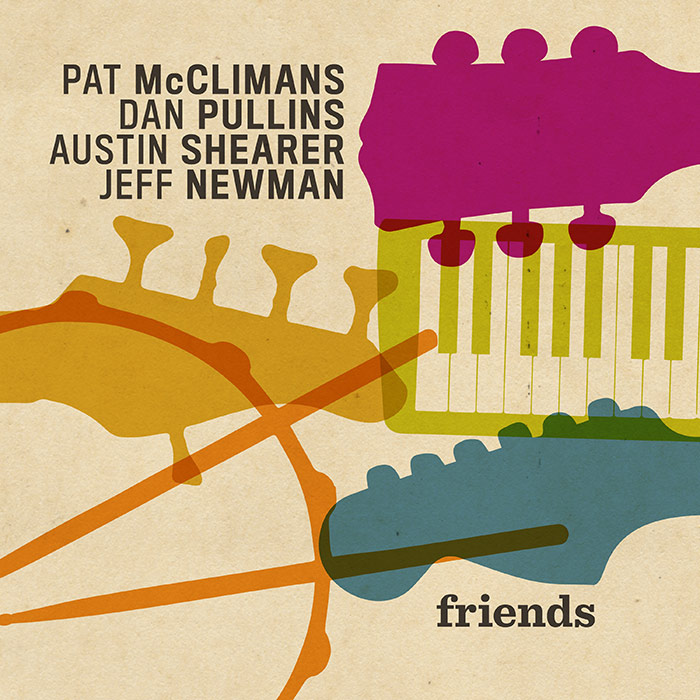 New 5-song record from Pat McClimans!
Playing together in various groups across Indiana and the Midwest, Pat McClimans of Metroschifter, Dan Pullins, Austin Shearer and Jeff Newman have shared many stages. They've found common ground in translating individual musical components to become one satisfying sound.
With years of experience playing a wide range of styles, a singular focus on rhythm and groove compelled them to bring to life the 5 songs that are presented here.
Trading demo recordings and working parts until each player was satisfied, the group then recorded with an intent on presenting an honest group dynamic with little studio trickery. Each track was played live and no rhythm or pitch corrections were made. There are clear "gifts" throughout the recording, but this presentation is as close to a band performing live as we were able to get.
The new 27-minute record is titled friends and is available now exclusively on Metroschifter.com, for a whole month before it hits all the major music services! Best of all, you can name your own price.
All about the Metroschifter
The Metroschifter released five full-length albums and several EPs between 1994 and 2000, adding a sixth album in 2009. In its early years, the band included a succession of members from indie rock and hardcore heavyweights such as Rodan, Endpoint, 411, Sunspring, the Rachel's, Falling Forward, Shipping News, Transcend, Eleven Eleven, and Chamberlain.
Approach
The Metroschifter has operated in innovative ways starting with their very first record. The band is from Louisville, Kentucky, but their members originally lived in different cities across the United States.
Because of this, they learned their first set of songs from demo tapes that singer/songwriter Scott Ritcher mailed out to the other members. As a result, their first tour in 1994 was booked before they had even played together. Regardless, a few intensive practice sessions before the trip solidified their sound and their debut album was recorded the following week.
In a similar fashion, that album, The Metroschifter Capsule, went on sale before it was even finished. The band members and Ritcher's label, Slamdek, ran advertisements announcing the new group was releasing a record that could be ordered in advance.
Fans purchased the album before it was completed, then each copy was personalized with the buyer's name on the cover and home-delivered.
Music
The Metroschifter's sound is loud, distorted, thunderous, and blazing, yet sometimes stops on impossible points to become complete silence, before diving headlong back into a mathematical, emotional storm.
Reviewing the Fort Saint Metroschifter album, Toledo Entertainment magazine said the Metroschifter put "more curveball dynamics in 1/3 of an hour than most of their contemporaries would put in a friggin' box set."
Impact Press describes a sound that can "fly from rage to softness to downright discordant… both spacious and gracious." Mega Music said "they almost never look or sound the same way twice" and Over The Shoulder called them "so damn inventive."
A reviewer at Ignition chimed, "like nothing I've heard before," and Outback Magazine echoed, "One of the most unique and interesting bands."
Maybe Punk Planet made Metroschifter proudest: "There are very few bands that are putting out such challenging albums. It's incredible. Three cheers for the Metroschifter!"
Early on, the band decided to stretch their sound, to never make the same record twice, and to make a conscious effort to test their audience.
In 1996, they briefly departed from their ultra-distorted, full-throttle sound, and released an even more demanding record, the all-acoustic, country album Generation Rx. Teleport City observed, "I've always admired Metroschifter's willingness to fuck with people," but Second Nature wasn't as smitten and barked, "After this record, Metroschifter should rename their band to something more suiting, like for instance, Crap!"
Metroschifter released Encapsulated in 2000 which pushed the band deeper into uncharted territory. On this unique record, they assembled a cast of some of their favorite bands who each learned and recorded a new, unreleased Metroschifter song.
The result was an album of new Metroschifter songs on which each song was performed by a different artist. Participants included Elliott, The Get Up Kids, Ink & Dagger, The Promise Ring, Refused, Burning Airlines, and Rye Coalition. Manatee Bound announced, "this has never been done before," while Pitchfork comically wondered if the aging members of Metroschifter were too lazy to play their own songs.
Extracurricular
All three members of Metroschifter have collaborated with each other on a variety of other projects in the time since the band was regularly active. Chris Reinstatler has performed in Brett Ralph's Kentucky Chrome Revue; Scott Ritcher has done solo work and recorded in the group Best Actress; Pat McClimans has done work with Lafayette, Indiana's Root Hog as well as the Pat McClimans Group. Ritcher also ran in the 1998 election for Louisville mayor and was a 2008 candidate for Kentucky's state senate.
Return
After taking about six years off between 1999 and 2005, they returned to the stage for a series of exciting sold-out shows in Louisville. Always trying to keep it interesting, the opening act for the first return performance was a spelling bee in which audience members competed against bassist Pat McClimans. He lost.
When returning, they picked tiny, ridiculous ticket prices ranging from $1.79 to $2.44 in their hometown to dispel rumors they were reuniting to make money. They tried to start a new band, but it didn't feel right, so they decided to just be the Metroschifter.
The Metroschifter has played over 200 shows, across 14 countries, including six tours of Europe and five tours in the United States. Scott Ritcher also recorded and toured as a solo artist in the US and Europe.
The bulk of Metroschifter's music was issued on Doghouse Records and is available from that label, from the Apple iTunes Music Store and from this website.
The band's sixth full-length recording, Carbonistas, was released in July 2009, on the Louisville label Noise Pollution. To coincide with the new record, in November 2009, Metroschifter embarked on their sixth tour of Europe.