This history of our band includes free downloadable songs from many of our records.
1994
MARCH: Scott Ritcher wrote Metroschifter's first album in a 200-year-old adobe in the middle of the New Mexico desert in 7 days. This demo cassette was released as "New Mexico Demos."
MAY: We went on our first tour after practicing together only twice. The tour was booked before we had ever played together. The original line up was Mario Rubalcaba on drums (ex-411, ex-Clikatat Ikatowi, Blackheart Procession, later in Rocket from the Crypt), Patrick McClimans on bass (ex-Falling Forward, ex-Tramlaw, later in the M.T. Rhodes Band and Pat McClimans Group), Scott Ritcher on guitar and vocals (ex-Sunspring, ex-LG&E), and Chad Castetter on second guitar (ex-Endpoint, ex-Wino).
JUNE: Our first album is recorded two weeks after the band formed. We didn't have enough money to mix and release the album. We passed out flyers advertising the record and 400 kids sent in $6 each to pre-order a personalized LP. Scott's label, Slamdek, handled the pressing.
SUMMER: After touring and recording an album in our first two weeks together, we took the rest of the summer off.
SEPTEMBER: Pat and Scott recorded some acoustic songs in Lafayette, Indiana. Two of them were released the following spring on the "Acoustic" split 7″ with Falling Forward on Initial Records.
NOVEMBER/DECECEMBER: Pat and Scott went on tour with substitute drummer Dave Mason. The five-week trip with New York's Die 116 covered the United States.
DECEMBER: All four original members got together to play some shows and recorded a seven inch. The record was released the following month as "For The Love Of Basic Cable" on Foresight Records.
1995
JANUARY: The first Metroschifter album was one of Jawbox's top five favorites of 1994 in CMJ.
APRIL: Scott and Chad wrote the second album in about ten days in Louisville.
APRIL: Pat, Chad, and Scott played several shows with drummer Kevin Coultas (Rodan).
MAY: We got together to play some shows and record more music. This time we enlisted Bob Weston to record it. This session produced the "Fort Saint Metroschifter" 12-inch and the "Number One For A Second" 45 for Doghouse Records.
SEPTEMBER: "The Metroschifter Capsule" was reissued on LP, cassette, and CD on Conversion Records.
1996
SUMMER: Metroschifter joined the Rachel's on a Midwestern US tour that included film projections by Greg King.
SUMMER: Pat, Scott, and Chad recorded the third Metroschifter album, "Generation Rx," at Scott's house in Louisville. It is completely acoustic, has no drums, and leans heavily toward country music. It received a mix of reviews and reactions. People either love it or hate it.
DECEMBER: Metroschifter's first tour of Europe was a 22-date adventure with the Toledo band Omaha. Drummer Chris Reinstatler joined the group as Chad and Mario departed on good terms toward other projects. Scott's brother Mark Ritcher filled in on bass as Pat was unable to go on the trip. (Read the Tour Diary, published in Hard Times Magazine in 1997)
1997
JANUARY: The band's studio efforts returned to the world of full-throttle electric rock music with the recording of three new songs. Christian Frederickson of the Rachel's accompanied us with his viola mastery.
APRIL: We offered two new songs on a pre-order-only basis as a limited edition personalized 7″. This time 1,102 kids in America and Europe answered our call by pre-ordering the record. The personalized seven inches were delivered in June.
JUNE: We returned to the studio to record our first rock album in over two years. The 12-song "Metroschifter 4" was released on Doghouse the following month. Its artwork contains 651 photographs.
JULY/AUGUST: We embark on a 34-date tour that included shows in America, a return to Europe, and our first trip to England.
1998
MARCH: Metroschifter took a spring tour with Elliott during which we vowed to eat burritos every day of the trip.
MAY: Work begins on the "Encapsulated" record, a new Metroschifter album on which the songs are performed by other bands we picked. In other words, the new Metroschifter album would be recorded one song at a time by other bands.
SUMMER: A split CD is released on Initial featuring Metroschifter and Shipping News. Plus, the Metroschifter home page debuts on the internet.
DECEMBER: We recorded several new songs at Red House Studios in Eudora, Kansas. We started a record label and released a limited edition CD for our European tour. The new label is called I Can't Believe It's A Record Company.
DECEMBER/JANUARY: Our third tour of Europe became the first for which all three of us were able to go together. The tour was with our friends Coach from Frankfurt. The trip took us to many new places. Adding France, Denmark and Sweden, the list of countries in which Metroschifter has performed expanded to eleven.
1999
FEBRUARY: Scott stayed in Europe after the Metroschifter tour and embarked on a solo acoustic tour. The tour included shows in Denmark, Sweden and Germany, mostly with the International Noise Conspiracy.
MAY: The 6-song "Strawberries" is released on Doghouse. Many reviews call it Metroschifter's best and in only a month it quickly outsells all of our previous releases.
JULY: "Metroschifter 4" is released in Japan. This version on the Doghouse Japan label includes different masters of 4 songs from "Strawberries" as bonus tracks. These tracks from "Strawberries" and aren't tied together like on the US version.
SUMMER: We completed two tours of the eastern US, the second of which was with our friends Coach from Germany. We experimented again with a 4-piece lineup, adding bassist Ryan Patterson and moving current bassist Pat McClimans to guitar. We returned to being a 3-piece at the end of the summer.
SEPTEMBER: A solo acoustic CD by Scott Ritcher became the second release from our label, I Can't Believe It's A Record Company.
NOVEMBER/DECEMBER: Metroschifter traveled back overseas for our fourth European tour. The trip consisted of 31 shows in 12 countries with two days off. Curtis Mead filled in on bass. We covered some new territory by performing in Norway, Switzerland and Slovenia for the first time.
2000
AUGUST: After over two years in the works, Metroschifter's fifth full length album "Encapsulated" is released on Doghouse in the US, Europe and Japan.
The album features other bands performing new and unreleased Metroschifter songs.
Artists include Burning Airlines, Cooler, Elliott, the Enkindels, the Get Up Kids, Ink & Dagger, Joan of Arc, Music Group, MT Rhoades & His Lonesome Woods Band, the Promise Ring, Refused, Rye Coalition, and Kyle Crabtree & Jason Noble.
OCTOBER: Our own label, I Can't Believe It's a Record Company, signed a deal with emusic.com to have our releases for sale as licensed downloadable files on the internet.
An online-only release, "Encapsulated Demos" was created to help kick it off. This album contains the original demo versions of the songs from which the bands on "Encapsulated" learned the new songs. Several songs that appear on "Encapsulated Demos" did not make it to the final release and can be heard only online.
NOVEMBER: We announced our plans to replace all the members of the band with new people. The new version of the group will be called Metroschifter, Too! and will debut by opening for us at our last show.
2001
APRIL: The Metroschifter homepage moved to metroschifter.com after the domain name was wrangled from the hands of from some punk who thought it would be funny to register it and try to sell it to us. We didn't fall for it.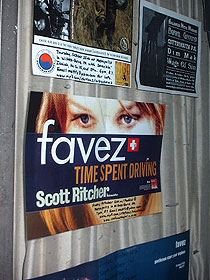 SEPTEMBER: Ten months after our first announcement of Metroschifter, Too!, the complete lineup of the new band was announced. Grace Sinclair (guitar/vocal), Matthew Show (bass), Josh Dawkins (drums) and Jeff Tucker (guitar).
OCTOBER: Scott Ritcher's "Nashville Geographic" CD was released on Doghouse and coincided with a 5-week US tour opening for Favez and Time Spent Driving.
2004
FEBRUARY: Pat McClimans and Scott Ritcher release a CD with a new band under the name Department of Energy. The release is the 8th on Metroschifter's label I Can't Believe It's a Record Company.
2005
MARCH: After several years of doing other things, Pat McClimans, Chris Reinstatler and Scott Ritcher begin practicing again as Metroschifter.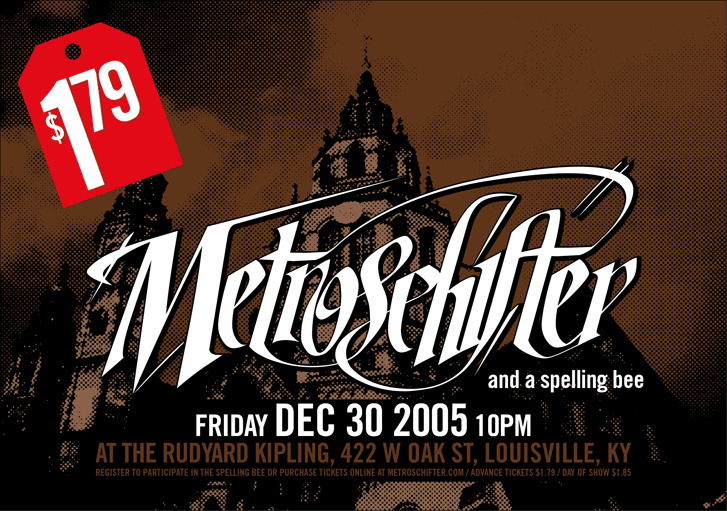 DECEMBER: The band plays to a packed house at the Rudyard Kipling on December 30th, their first show since 1999.
2007
JULY: Metroschifter returns again and performs at the Freedom Haters' Ball on July 21st, the band's 202nd performance.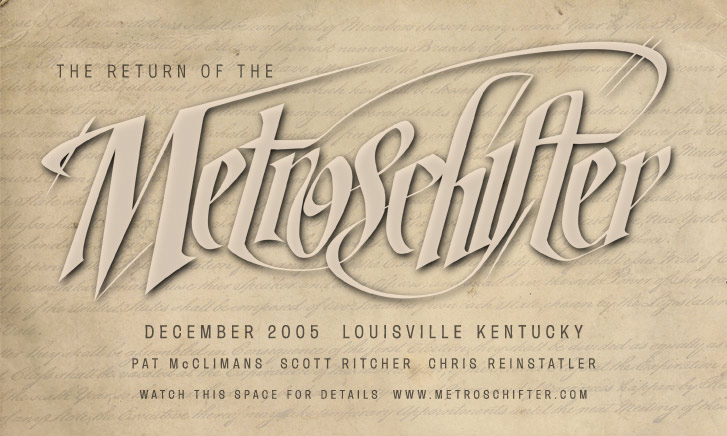 2008
JANUARY/FEBRUARY: Drummer Stan Doll and bassist Sam "Sneed" Lyons join Scott Ritcher to take the Metroschifter sound back to Europe. The three-week tour covers five countries, with performances in Germany, Austria, the Czech Republic, the Netherlands, and Belgium.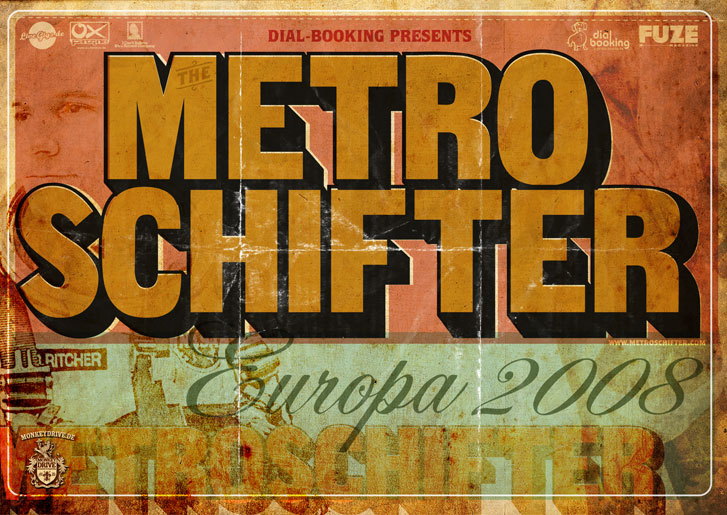 APRIL: The 2008 European Tour lineup plays back-to-back shows in Louisville; the first at the Pink Door benefiting Scott's campaign for Kentucky State Senate and the next afternoon a free in-store show helps ear X-tacy Records celebrate National Record Store Day.
2009
JANUARY: Pat McClimans, Chris Reinstatler, and Scott Ritcher team up again as The Metroschifter to record their sixth long-playing release and the group's first since 2000. The record goes on sale several months prior to its release in order to personalize each copy.
MAY: The band marks the fifteenth anniversary of their first show by announcing a European tour for fall 2009.
JUNE/JULY: Personalized CDs of Metroschifter's first record in nearly nine years are home-delivered around the world to fans who pre-ordered them. "Carbonistas" also is available in record stores (if there's still one in your home town) and on iTunes.
NOVEMBER/DECEMBER: Pat McClimans, Chris Reinstatler, and Scott Ritcher embark on the band's sixth tour of Europe. Three weeks of shows are completed across Germany, the Czech Republic, Italy and Austria.